BY Mozart Liu @ December 06, 2022
Disposable Vape Pen With Type C Charging Port!
Many people think that disposable vapes are for single-use, but manufacturers don't. To allow consumers to get more benefits, manufacturers are providing a more affordable way to benefit consumers, like offering rechargeable disposable vape devices.
How comes a disposable vape pen have a charging port?
The old problems that disposable vape pens were known for: bulky, short battery life, poor vapor quality, and questions of whether you are getting a fresh battery in the first place.
To allow vape users to enjoy every last drop of e-juice, there are several aspects we can explore, some manufacturers may enlarge the battery capacity or the ejuice storage space, Which can also lead to irrational vicious competition, but this is not the solution for a better vaping experience. Here are some aspects MOTI has been focused on designing and manufacturing vaping devices that meet most of the user's preferences. Although some aspects may not, it has always been committed to making products that make users more satisfied. Let's see what surprises MOTI's new products have brought to users.
Double Injection Modeling
The most noticeable element of MOTI VISION is its Double Injection Modeling. Double injection craft has better quality and improved aesthetics. MOTI VISION is just visually appealing to the consumer with multiple materials and glowing colors. Its diamond-shaped cylindrical body makes it the most streamlined portable disposable vape pen.
Mesh Coil
Mesh coil provides pure and smooth flavor with a long-lasting lifespan. It continually delivers a flavor that is just as good as new. You wouldn't wanna miss it out. if you are using a mesh coil vape POD and looking for enough power for a big cloud, and the cleanest hit available on the market, this vape pen battery can do it.
This best-selling disposable vape pen on MOTI's official channels, one of the best disposables on the market featuring a Double Injection Case, and just made it the best on the market by far. What disposable buyers concerned about are mainly, battery life, vapor quality, and questions of whether you are getting a fresh battery in the first place. That's why MOTI has launched this rechargeable disposable vape pen with a higher capacity 630mah battery and an upgraded 10ml cartridge. If you are looking for a streamlined, portable, concealable, and long-lasting disposable vape pen, MOTI VISION is an ideal choice.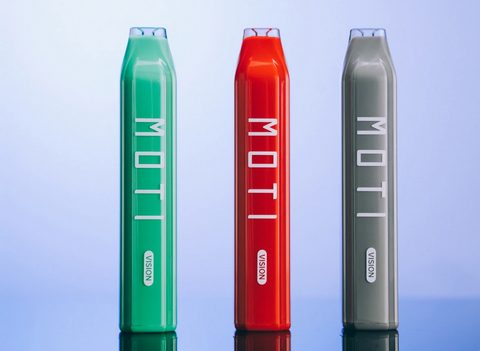 MOTI VISION is a rechargeable disposable vape pen that is ready for any adventure. It comes with no charger no cable no paper user manual. The fact is that to lower the cost of production where the charging cable can be available from other electronics. With a high capacity 650mAh battery and a Type C port for recharging, you don't have to worry about when the disposable pen will not be working.

The VISION is MOTI's latest rechargeable disposable vape pen that takes the disposable stick battery into a further step. Discreet, lightweight, rechargeable, super high-quality vapor, and high capacity for the long journey. Take a look at the details:
MOTI VISION Specification
Puffs: 3500
Nicotine:2% / 5%
E-liquid: 10ml
Battery: 650mAh
Wattage: 5W
Resistance: 1.2Ω
Coil: Mesh
Product Size:125*24*24mm
Material: Plastic
Ingredients: Vegetable Glycerin, Propylene Glycol, Nicotine Salt, Artificial and Natural Flavorings.
SUMMARY
The MOTI VISION Disposable Vape is a sleek, discreet, and easy to carry pod-style all-in-one disposable vape which is not only lightweight, long-lasting, and rechargeable, but also features a mesh coil heating element, and comes with more than 15+ ejuice flavors. Visit MOTI's official website for more information: www.motiplanet.com
Read More