BY Mozart Liu @ December 06, 2022
Today I'm taking a look at the MOTI ONE 4000 vape kit.
It's certainly different from what I was expecting.
The team at MOTI have been leading e-cigarette trends since their inception back in 2018. With a mission to bring positive change and happiness to ex-smokers their status has swiftly elevated them to 2nd best e-cigarette brand in China.
Known in over 57 countries they've notched up 16 international design awards. Catering to new and seasoned vapers alike, MOTI are currently pushing strong in the disposable vape arena.
Speaking of designs, The MOTI ONE 4000 might just increase their awards tally to 17..
We have reviewed kits from them in the past including the Moti/Vaporesso X Mini and the Moti Pod kit.
What Can We Expect From the MOTI One 4000?
As I said, expect something completely different!
This kit is kind of a hybrid of a disposable vape and a closed (non refillable) pod kit!
Let's go for 'replaceable' vape kit. Insofar as we have a removable cartridge and a separate battery section. The cartridge is powered by a 1.0ohm mesh coil and designed to function for anything up to 4000 puffs. The 600mAh battery can be recharged via type C USB. (charging cable not included).
Each flavour cartridge holds 10ml of 20mg salt nicotine. It's not stated on the MOTI site but I'm guessing the e-liquid ratio is 50VG/50PG.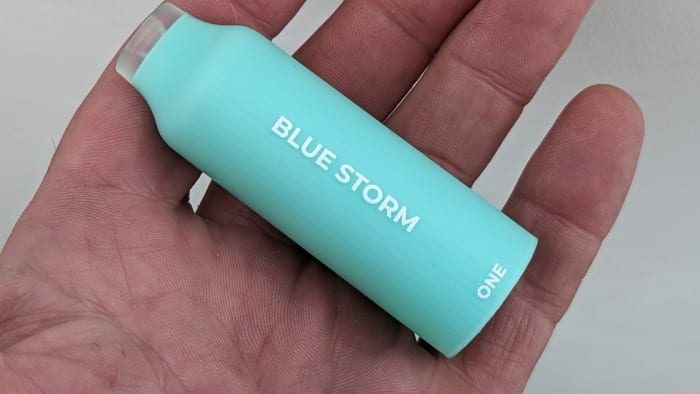 At 106mm in height it's about the norm for a disposable vape. It may lose appeal to some with its bloated circumference of 26mm.
However, this little bad boy has airflow adjustability in the form of a serrated ring where the cartridge meets the battery section. It has to be said that the turning tolerances are spot on – we'll find out how effective the airflow is later on.
The battery section doesn't use magnets and simply snaps into the cartridge. It's a strong connection too because the device passed numerous drop tests on the hardest of surfaces.
The cartridge is disposable once the e-juice runs out but then it's simply a case of attaching another thereafter. That's good for swapping flavours mid charge I guess but it doesn't look like they're being sold separately. Unless that's in the pipeline.
Specifications
Dimensions: 106 x 26mm
Puffs: 4000
Battery: removable 600mAh
Cartridge: Pre-filled, Replaceable
Capacity: 10ml
Nicotine: 20mg salt nicotine
Coil: 1.0ohm mesh
Airflow: Adjustable
I wasn't able to glean any flavour descriptions from the official MOTI site so I'm going in blindfolded. Don't forget that flavour is subjective. Use my thoughts and opinions as a guiding light.
MOTI ONE 4000 – Blue Storm
I Say:
Blueberry is the order of the day, as expected. It packs some clout too. It doesn't take long for the cooling agent to kick in on the inhale and has a habit of clinging to the rear of the throat post vape. I've said this before – some will take to that, others won't because it can become obtrusive. Quickly.
The sweetness may also put some folk off. I've become used to it now and kind of expect it as de rigueur for this kind of vape.
This is your average, generic candy style Blueberry so don't expect a natural authentic fruit atomising around the old taste buds. However it's still very punchy and lively and most certainly doesn't lack in the flavour stakes.
Blue Storm will probably go down a.. er storm with the less discerning vaper.
MOTI ONE 4000 – Creamy Strawberry

I Say:
Wow! This is a tasty one. It also makes good use of the sweeter properties of the vape. During the inhale it's not as noticeable as some in the range. There's more of a tendency for it to pull through mid exhale and really does bolster that candy inspired Strawberry content.
There is a smoothness to the exhale and that's created by the creamier quality. It blends in quite well with the Summer fruit. I wouldn't class this as a Strawberry ice cream type vape even though that's what I was kind of expecting.
Despite the inclusion of an icy cold blast Creamy Strawberry leans more towards a beverage based profile. Yet it doesn't try to copy any of the more popular milky drinks and has something of a unique taste of its own.
On this occasion I think the icy cold blast that accompanies the exhale is slightly overplayed. It certainly catches the throat post exhale and sticks around longer than necessary.
In terms of flavour reproduction on its own, Creamy Strawberry is very satisfying.
MOTI ONE 4000 – Crispy Apple

I Say:
When ripping the device from the vacuum sealed bag I got a strong aroma from the mouthpiece. The sweetness of the vape gets drawn up during the inhale just prior to an icy cold blast on the way out.
This is indeed a crisp, clean Granny Smith's variety of Apple, except the juicy quality is replaced by that sweetener. Because this is a strong tasting vape it holds up well for the duration of the exhale.
It's certainly not lacking in flavour property and the cooling agent helps to ignite the vape (metaphorically speaking, of course). It keeps things nice and refreshing so this is an ideal Summer vape in my opinion.
Crisp Apple is a flavour that the new or seasoned vaper will appreciate. Sometimes the simplest creations are the best.
MOTI ONE 4000 – Mixed Berries

I Say:
The aroma of this one kind of lets the cat out of the bag. As a creation, Mixed Berries has to be one of the best I've tried. It simply oozes the flavour factor. I've often stated in the past that they're very hit and miss – at worst resembling vaping warm hairspray!
I know, but that's the only way I can describe it lol.
Flavour explodes at the moment of exhale and it's a heavenly fusion of dark Summer fruits. There's a complexity to Mixed Berries and if I had to state order of dominance it would be very tricky.
Personally I get Blueberry and Raspberry at the forefront and towards the end the sweetness of Blackcurrant punches through. It's a very pleasant vaping experience from start to finish.
Again the cooling agent takes up at least 50% of the overall vaping experience but with flavour this good do I really care?
Nope..
MOTI ONE 4000 – Pina Colada

I Say:
This is the smoothest, tastiest vape of the range thus tested. It still has that significant cooling effect on the throat but is balanced by a silky smooth exhale.
The sweetness permeates throughout and tickles the taste buds on the after taste. I'd have to say the ratio of cooling to sweetness is pitched just about right and works a treat as a backdrop to the key ingredients.
The Pineapple used in Pina Colada is heavenly. It carries a distinct tartness and no doubt is where much of the sweetness originates. So we instantly receive that tropical vibe associated with the drink.
Much of the smoothness can be attributed to the Coconut and there is a woody, creaminess that blends perfectly with the fruit.
If I have to be picky there's not much in the way of Rum. That would have really completed this awesome vape. As things stand Pina Colada is still packed with flavour and has the most complexity out of all tested so far.
I'm finding it very moreish and as a consequence is my current favourite.
MOTI ONE 4000 – Spearmint

I Say:
A good one to finish the line up with. In more ways than one. Firstly it's acting as a great palate cleanser and secondly the Spearmint isn't too intense.
Many versions of Spearmint can lean towards and remind me more of toothpaste or chewing gum. This take is a bit different. I'm not sure if that's because of the additional sweetness of the vape but it's more akin to the type used in, say a Mojito.
Because Spearmint has its own level of associated sweetness I do still think Moti have gone a little overboard by piling more on top. It comes across very concentrated and maybe creates a slightly sickly after taste.
To this effect the Spearmint plays less of a role and combined with the cooling agent tends to create a head rush.
It's certainly not lacking for flavour but I'm finding Spearmint too intense for everyday vaping. I think it's one I would come back to now and again and will be effective for the palate cleansing properties I've mentioned above.
Battery Performance, Number of Puffs and Charging
One word. Phenomenal. For a 600mAh rated battery the MOTI ONE 4000 held out for an incredible 15 hours! It wasn't as if I was vaping regularly either. At times I was chain vaping.
However. The device showed signs of an empty cartridge after just one charge. Dry hits became noticeable after the first five or six puffs. The flavour had certainly taken a turn for the worst.
So this begs the question. How relevant is the rechargeable battery? On the subject of charging it took 90 minutes to rejuvenate. During the charge cycle the blue LED remains lit and switches off when complete. It blinks three times when removing from the charger.
As a general estimate I think I got around 1,200 puffs from the MOTI ONE 4000. It doesn't even approach what's being suggested. It also looks like I'd vaped the entire 10ml e-juice in just one sitting.
..Not so surprising given the 15 hours of continuous usage.
Final Review Verdict
The MOTI ONE 4000 offers an original take on design and build quality in my opinion. I do find it somewhat confusing to describe. It falls between the cracks of a disposable vape and a pod kit.
That's because of the removable, replaceable nature of pod systems and the intense sweetness and flavour commonly associated with disposable vapes.
I get that it needs to be bigger to house 10ml of e-juice but it has the presence of a pod kit and the styling of a disposable.
The adjustable airflow ring works but only if set to mid position. You're not going to get much versatility when it comes to restriction. I also don't think it's necessary because the MOTI ONE 4000 will provide a very decent MTL (mouth to lung) vape in its widest position.
So I've uncovered a few teething issues with functionality but when it comes to flavour and vapour production it's a cracking little set up.
Although I only managed a single charge it was reliable and consistently delivered the goods. The auto draw was flawless too.
Have you tried the Moti One 400 kit? Let us know your thoughts in the comments below!
SUMMARY
Gotta love a bit of originality and it looks like MOTI have been thinking outside of the box with their ONE 4000 kit. Is it a pod kit, is it a disposable? It has the look of one and the flavour of another. While not living up to its claims of 4000 puffs it more than delivers on flavour and cloud production. To date, I've never encountered a 600Mah battery capable of 15 hours continuous use!
Read More